What If There's A Solution That Can...
ACHIEVE STRESS-FREE EXAMINATIONS.
ACHIEVE SANITARY APPLIANCE CHANGE.
ACHIEVE PATIENT INDEPENDENCE.
Would You Give It A Try? StomaGenie® captures waste during a pouch change making the process clean and easy.
The Problem With The Current Pouch Replacement Routine*
experienced a peristomal skin complication (PSC) during the first 90 days following ostomy surgery.

experience some types of stomal or peristomal complications within 2 years of undergoing ostomy surgery. 
Health care costs were approximately $80,000 higher in patients with PSC than patients without PSC.
Let's Change These Numbers! Be Part of The
Capture During Change Movement
Stomagienics is leading a Movement to address the problems related to the Pouch Replacement Routine. Here is how we can change the numbers!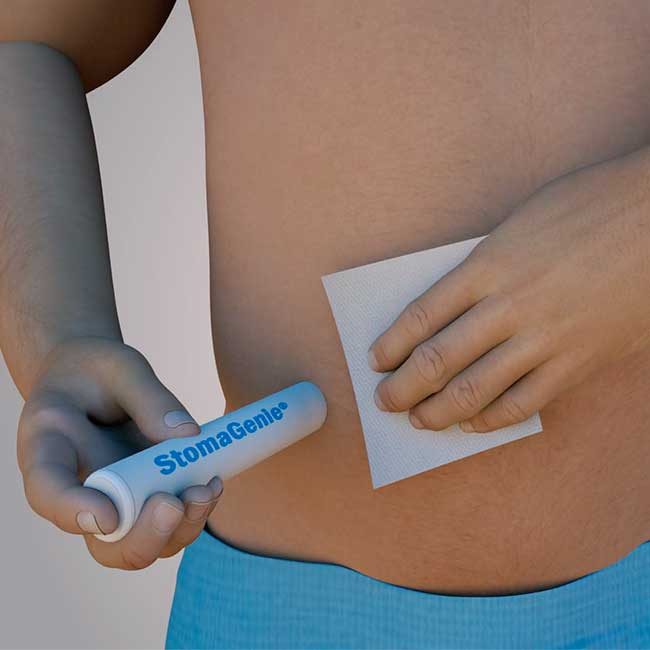 Hygiene-Friendly Changing Process Controls Output
StomaGenie Capture Cartridge® contains output, keeps effluent away from skin and allows time to treat and manage peristomal skin conditions.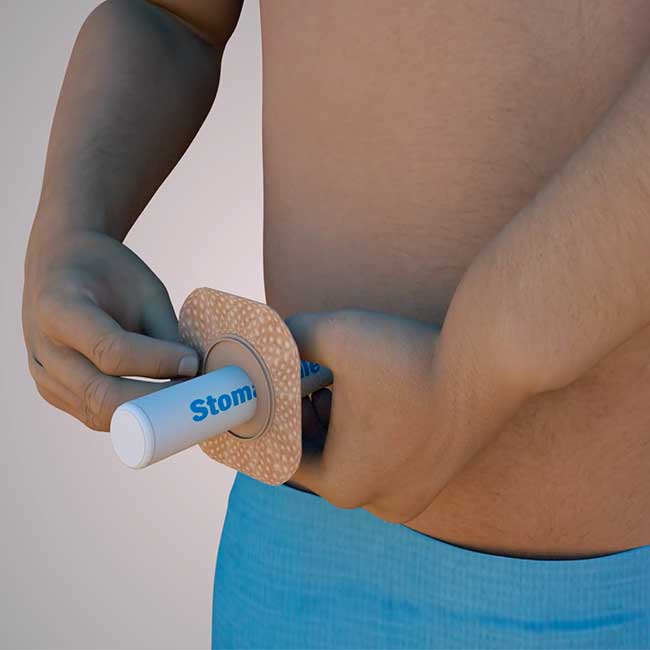 Perfect Alignment Eliminates Wasted Supplies
StomaGenie Capture Cartridge® provides a simple and sure guide to facilitate perfect alignment, even when the stoma is in a difficult location.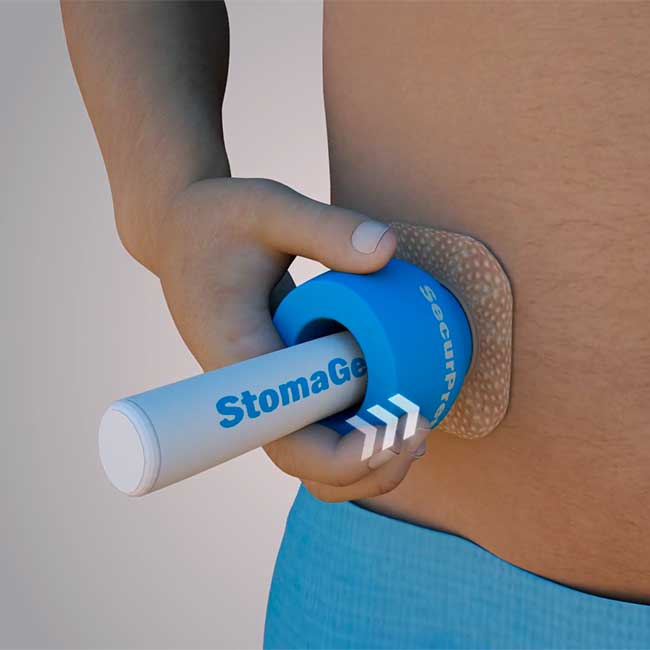 Maximum Adhesion Prevents Leakage
Healthy peristomal skin provides the optimal base for reliable adhesion. SecurPress® applies firm and even pressure where it matters most (for 2-piece users).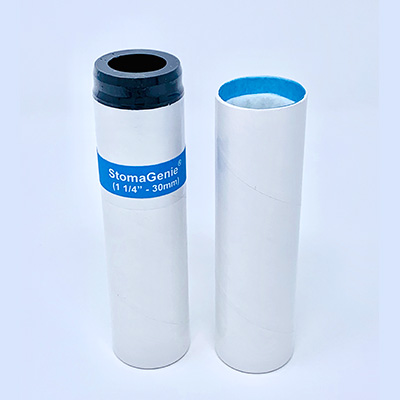 Capture During Change Builds Confidence
StomaGenie Capture Cartridge® gives control back where it belongs building confidence, self-sufficiency and independence.
Will StomaGenie® Work for My Patients?
One-Piece System Patients
Two-Piece System Patients
Capture During Change MOveMENT?
Sharing an updated Standard of Care for ostomy pouch replacement
Stomagienics is working with Clinicians that want to make a difference with the Capture During Change Movement.

Who is Capture During Change for? Ileostomy, Urostomy and Colostomy patients. Capture cartridges are available in 12 sizes for use by anyone who desires a more hygienic change or clinical examination. 
It's very easy to participate in the Movement and Change Lives. Just take these 3 Steps. 
Capture During Change Movement
Stomagienics wants to recognize clinicians that join us in the mission to improve ostomate patients outcome. 
How StomaGenie® Is Helping Clinicians Around The Country
A hygiene-centric protocol that
enhances the standard of care
The capture during change technique introduces a hygiene-centric protocol for ostomy appliance management and enhances the standard of care for ostomy patients.
Smart Idea. Great Product
It's such a smart idea to think of a way to contain the output of the ileostomy or urostomy stoma while keeping the peristomal skin dry. The StomaGenie® is really a great product. There are so many ostomates that will benefit from using it.
I'll Encourage My Patients ...
I used your product the first time today on an ileostomy and loved it. I will encourage my patients to contact you about this product. Thanks so much for the samples and attending the WOCN annual conference.

Revolutionary Product
This is truly a revolutionary product that will help many ostomates & the people who care for them The talk of the conference. Get ready Stomagienics…
Be Part of a Supportive Community
We're always in the Community listening to ostomate's struggles, needs and wins. We share what we learn from them and from our research in our newsletter. Join now for tips and support on how to live well and independently with your stoma. You can unsubscribe any time. 
I have a few questions...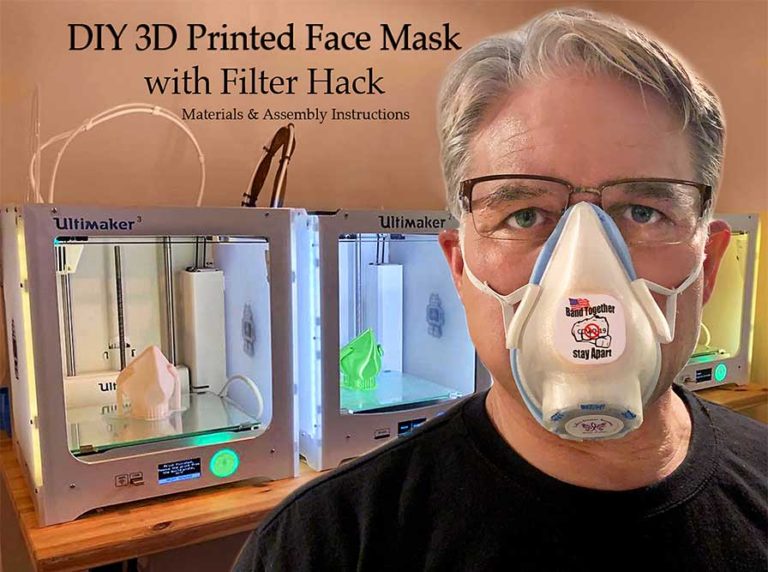 Stomagienics' Contribution to a Healthier World
In today's world, enhanced hygiene is a priority. With that in mind, Stomagienics is sharing a 3D printed mask pattern with filter for 3D printer owners. Click here to learn more.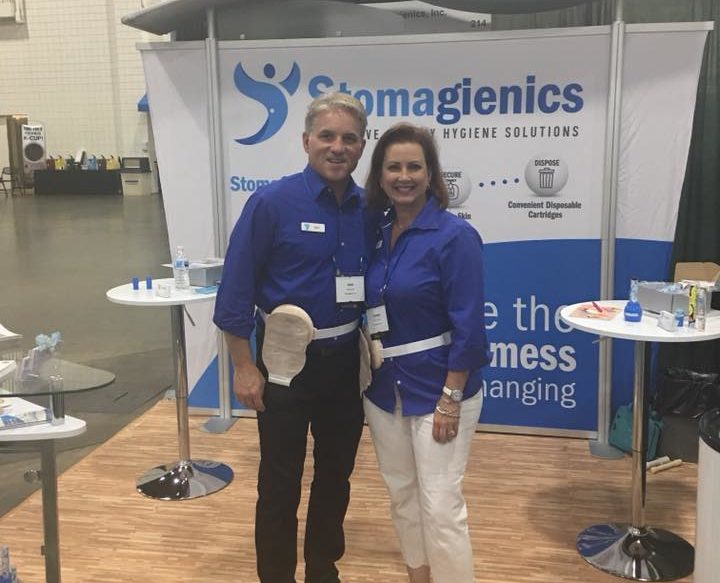 InnoVision Awards is South Carolina's premier organization dedicated to the advancement of innovation and technology. It is the mark of distinction for outstanding leadership, innovation, and technological excellence.
InnoVision's Small Enterprise Award sponsored by SC Launch, recognizes an organization for the development of new technology or for the innovative application of existing one. Stomagienics, Inc. was chosen for the 2019 Small Enterprise Award.
SER WOCN Society 2018 Conference
Our tream traveled to Myrtle Beach, SC to introduce our products to the Southeastern Region WOCNs. They battled the post-Hurricane Florence damage and debris to meet a super group of nurses who were very interested in our products. With each event we attend, it is reaffirmation the need is there, and our products address those needs.
WOCN Society® International Conference, June 2018